New adventures await literary heroine Rosie Revere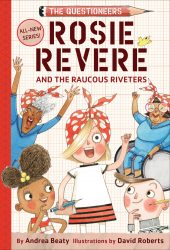 The Associated Press broke the news that bestselling children's author Andrea Beaty has new adventures in store for Rosie Revere and the other students in Miss Greer's class.
Rosie Revere and the Raucous Riveters is set to hit shelves October 2 and it will be the first chapter book in the series that will now be called "The Questioneers."
"Kids build such strong emotional connections with these characters," Beaty says of expanding the series, which she will continue to collaborate on with illustrator David Roberts. "It seemed a natural next step to grow with kids as they dive into that great adventure of independent reading."
Be on the lookout for even more chapter books down the road, centering on other characters including Iggy Peck and Ada Twist!